I'm woefully bad at this. I admit it. No excuses. Time to get real.
Sunshine. The sun has been out and about lately. It's wonderful! Even B&T love it. They will ask to go outside just to sit and enjoy the sun on the sidewalk. I used to be a winter person. I loved the cold and the dark.
Not no more. :-p I miss the sunshine. I think it's my BF's fault. She's the kinda girl that wears flip flops in the snow. (By the way, my husband does that too.) She also is the person I always hunt through candles for. Once we went to FL together and we decided that the best smell for a candle is sunshine, sunscreen and chlorine. And teal. If teal had a scent, that scent would be Sylver.
She's in California.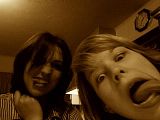 Can you tell I miss her more than I miss sunshine?